I'm having one of those days where I do not want to do the things, but I'm trying to make myself do the things anyway.
It's just one of those days.
We are now NINE days away from the big move, and we are (ok…mostly Adam is) dealing with all the little nitty gritty things that make moving so incredibly tedious. I think we both have to-do lists a mile long, and I just keep looking at my list and rolling my eyes as if that will somehow make it all go away.
Like- if I could sum up how I'm feeling in a picture, it would be this:
Y'all feel me?
Luckily, Adam's mom is in town and it. is. amazing.
There's just something about having a mom around that makes everything a little bit better. I think part of it is that I can finally sit back and be like, "Yasss- an adultier adult than me!"  Because most of the time I'm like: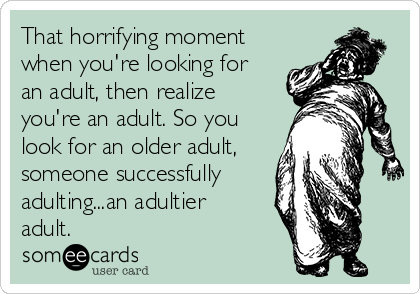 Ok, I'll stop throwing memes at you and get on with it.
The part of adulting that I love is getting to make all the sweet treats I want, whenever I want! And baking is totally therapeutic for me. It always has been.
Whenever I get super stressed I love to throw some sugar on it and pop it in the oven. I think both Adam and I would agree that we wish I found slicing and roasting vegetables equally as therapeutic, but that just isn't the same.
Knowing how much I love creating sweet things, my parents gifted me a Cuisinart Frozen Yogurt-Ice Cream Maker
 for Mother's Day. Since then, I have been on a "Let's make ice cream every night!!!" kick. Also, coming home from a long day and eating ice cream straight out of an ice cream maker makes me feel all crafty and homemaker-y. Coming home from a long day and eating ice cream straight out of the container is more like, "Honey… I think you might have a problem."
So we make the ice cream.
Honestly, it's been super fun experimenting with our own ice cream concoctions and we love being in control of our ingredients. Dairy and I do not always agree (sadly) so I've used canned coconut milk for all our ice cream recipes.
Some of them have been total busts, but our go-to recipe is a decadent, rich peanut butter ice cream made with date sugar. This ice cream is more rich than it is sweet (which we love) and there is nothing subtle about the peanut butter flavor. Depending on the type of peanut butter you use, this recipe can also be refined sugar free. Or if you like it a little sweeter, go ahead an add a half cup of sugar. Just go crazy!
I think the next time we make it I'm going to add in a fudge swirl because I like to dream big.
**You can substitute brown sugar for the date sugar, but we haven't tried it that way. Let me know how it turns out if you try the substitution!
Here's our tried and true recipe:
Peanut Butter Ice Cream
Dairy Free | Refined Sugar Free
Ingredients:
1 can whole fat coconut milk
3/4 cups date sugar
1/2 cup peanut butter (less if you want a milder flavor)
1 tsp. vanilla extract
sea salt to taste (optional)
Directions:
Whisk together all ingredients in a medium sized bowl. You want to make sure that the mixture is as smooth as possible and that the coconut cream isn't clumped. (If needed, heat the mixture to remove the clumps but let it cool completely before proceeding with the ice cream maker)
Then follow instructions on using your specific ice cream maker.
Optional: Top with chocolate chips or topping of choice.
Riv loves to watch the ice cream mixture swirl around in the maker!